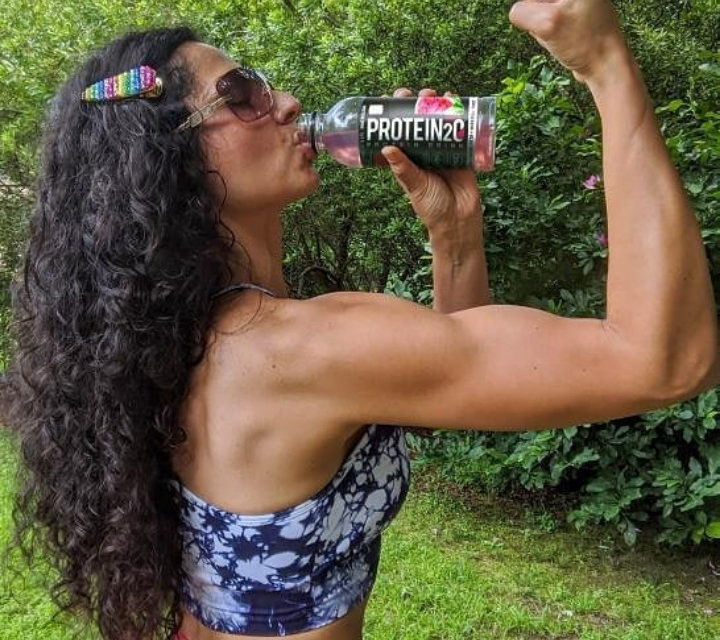 It's time to get inspired for our better selves for the new year — so no more talk and acceptance of pandemic weight gain or extra winter pounds.
To get going to achieve strong, healthy bodies, 80% of the battle is nutrition.  Thus, we've sampled an exciting product growing in the diet and snack-food categories to share with readers in your quest for a new(er) you in 2021.  Seriously, you won't feel like you're cheating.
Protein2o, is a refreshing water that packs 15-grams of plant protein, has introduced three new sophisticated thirst-quenching flavors: lemongrass chamomile, blackberry basil, and key lime coconut.  Heidi Skolnik, MS, CDN, FACSM, Nutrition Consultant for Protein2o, shares her insight on how this is no ordinary water.
What was the impetus of creating Protein2o?  Why is the focus on protein?
Protein2o was created as a lower-calorie alternative to the common ready-to-drink protein drinks on the market.  We thought, why should folks intake all the carbs, sugar, and questionable ingredients to get the goodness of protein.  Most protein shakes have 160-240 calories.  Besides the caloric difference (Protein2o products contain around 70 calories per 16.9 oz bottle with no sugar), Protein2o changed the game by creating a refreshing take on protein.  Not everyone wants a chalky milkshake. Protein that is crisp, delicious, and refreshing in fruit flavors is unique to the market and highly appealing to protein-seekers.
In the last 5-10 years, protein has grown from a post-workout ingredient to a lifestyle ingredient.  Protein has proven benefits for helping restore lean muscle, reducing appetite, and providing energy, making it highly sought after any time of day.
And now — Protein2o has launched a plant-based protein/vegan protein drink for the first time.   According to The International Food Information Council (IFIC) Foundation's 2020 Food and Health Survey, 28% of Americans consumed more plant protein in 2020 than in 2019.  Plant protein also ranks as third (65%) of consumers' perceived healthfulness of foods (after fiber and whole grains). The new Protein2o Plant Protein drinks contain only 80 calories (50% fewer than the average protein ready-to-drink) with 15 grams of protein.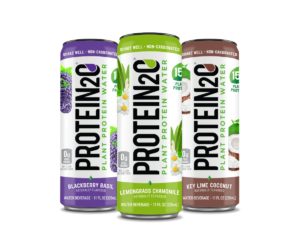 What are the benefits as opposed to regular water or other sports drinks?  Is Protein2o a sports drink or nutritional supplement?
Water and sports drinks are optimal for hydration.  Protein2o is hydration + added benefits.  You still get the benefits of water, but you also get 15g of protein on top of that.  Many Protein2o flavors contain electrolytes similar to a sports drink, but there is no sugar in our drinks. Because Protein2o is made in refreshing flavors (similar to a sports drink), they are designed to promote hydration and deliver the many benefits of protein.  And Protein2o comes in whey protein variants and vegan/plant-based variants, so everyone can stay hydrated and get the benefits of protein, which, as you know, all athletes need!
Can this product be used in a weight loss diet or exercise regime?  How?
Protein is essential for many reasons.  It helps the body build muscle and repair tissue while also helping energy levels and make you feel full.  Look for easy ways to add protein to your diet if you aren't currently consuming enough.  I like to toss in a Protein2o protein water to get an easy 15g of whey protein without added calories.  The amount of protein one should consume depends on many factors such as age, sex, body weight, activity levels, and health conditions.  An athlete may need to consume more protein than the average recommendation. There are many apps and sites to help figure out the right amount of protein one should need.  An example is using the Interactive Dietary Reference Intakes Calculator from the USDA.  It's always important to pay attention to the type of protein consumed, along with the amount.
I'm staying committed to upping my protein intake for the new year — I've taken on extra weight-lifting since my gym reopened and added lots more miles of hiking to my daily regime.
I want to build more muscle and definition but find myself getting hungrier as I power through extra exercise.  Protein2o helps me stay on-track with nutritional goals and fills me up without weighing me down, so my performance is steady.  I've been drinking it in the morning before a power walk with the dogs and a post-weight-lifting session.  And aside from the big burst of protein in each low-calorie serving, I'm thrilled with the unexpected benefit of 20% iron, a mineral many women lack in their diets.  It's definitely an interesting, effective snack to fuel your day and recover pre/post-workout.  Visit DrinkProtein2o.com.
View Full Story: https://fashion360mag.com/protein2o-for-a-new-you-in-2021/