It seems everyone, including kids, are on-the-go these days. Stuck in traffic, at school, driving to activities, and rarely enough time to get the high-quality protein they need. Protein is crucial for children in order to promote growth and sustain their energy. Diets high in protein also help to maintain a healthy brain function and good mental performance; leaving your kids alert and energetic.
Protein2o is a line of lightly flavored waters enhanced with protein to restore lean muscle and electrolytes to replenish hydration. It is perfect for before or after sports; giving kids the energy they need to play hard!
As a dietician and a mother of active kids, I know there's a lot of misinformation out there and I get all kinds of questions from parents about what drinks are best for kids when playing sports. Parents need to know that all beverages are not created equal when it comes to hydrating kids on the playing field. Unlike other "enhanced beverages" that promise benefits but deliver only empty calories and sugar crashes, Protein2o delivers real benefits your kids will see and feel. Each bottle contains electrolytes to improve hydration and increase natural energy. It is great to drink on the way to practice, during the game, or while celebrating a victory.  This is why I love Protein2o for my kids athletic needs, as well as my own!  (Check out my teammates at Performance Factory Training enjoying Protein2o as a post-workout recovery drink after an intense CrossFit workout)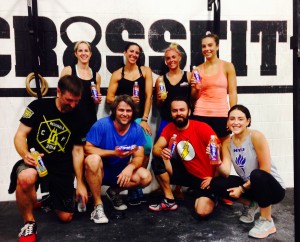 Protein2o combines all the best ingredients to bring out the best in its active users. It has no caffeine and zero grams of sugar, so there is nothing to stand between your kids and peak performance. We all know that sometimes it can be tough to get in a healthy meal or nutritious snack before practice or a game, but this product helps the body stay hydrated during physical activity, includes amino acids to help feed their muscles, and helps prevent cramping during and after exercise.
Protein2o has a taste that kids (and adults) love. It is perfect for practice, lunches, snacks, and an afternoon grab-n-go. You can even freeze it for a protein popsicle! This "Fitt Find" is perfect for anyone living an active lifestyle. Stock your fridge with this yummy beverage. Everyone in your family will be so glad you did!
LiveFitt!…BeFitt!